Getting started with the website builder
Getting started with the website builder is really simple. After registering for the product, you can move on to building your very own website.
Signing up
To sign up for the website builder, go to the main page.
1. Click on the Get started button in the top right corner.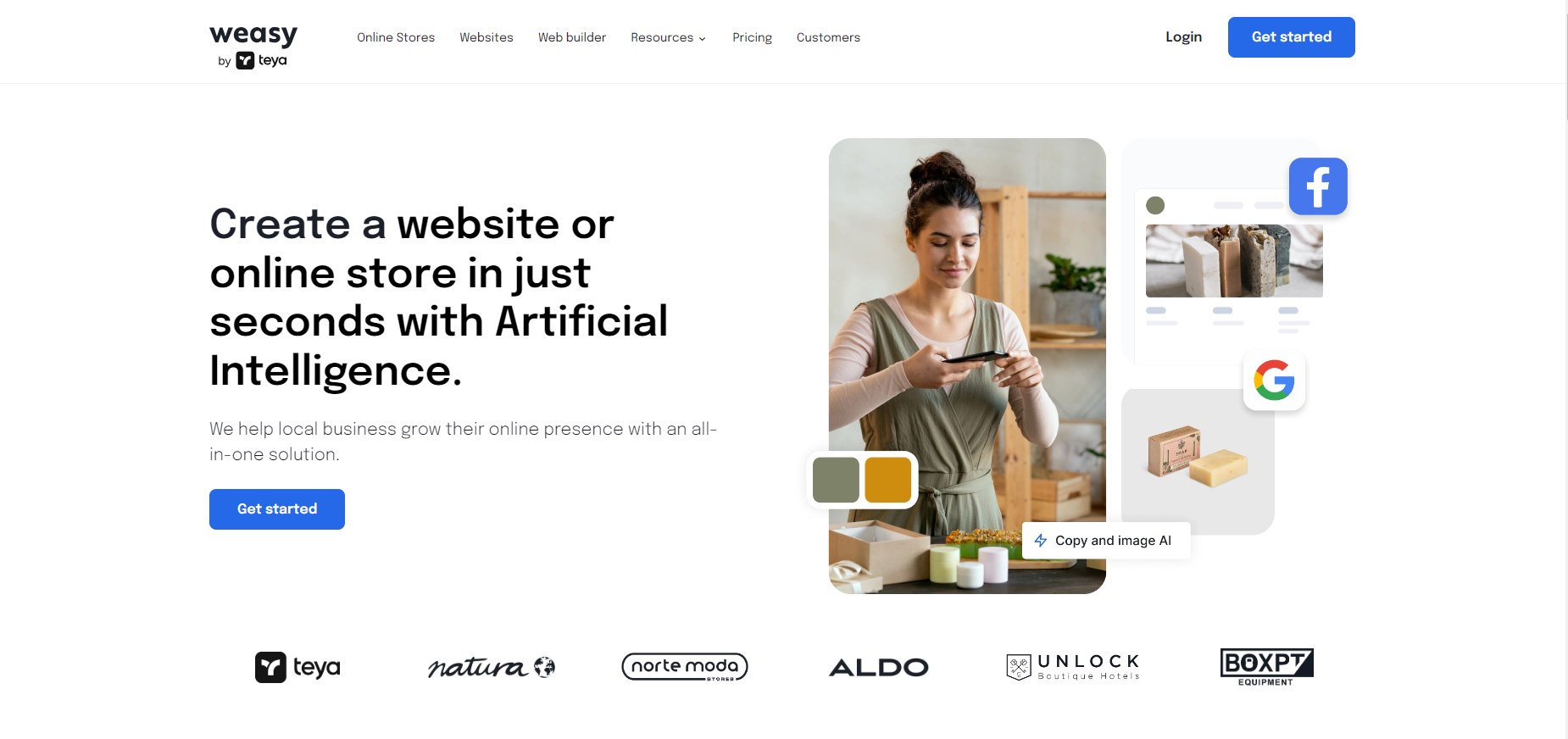 2. In the next step, click on Sign up.
3. Add your name, email, create a password, then click on Create account.
4. You'll receive a verification email. Click on the link inside it to confirm your email address and password.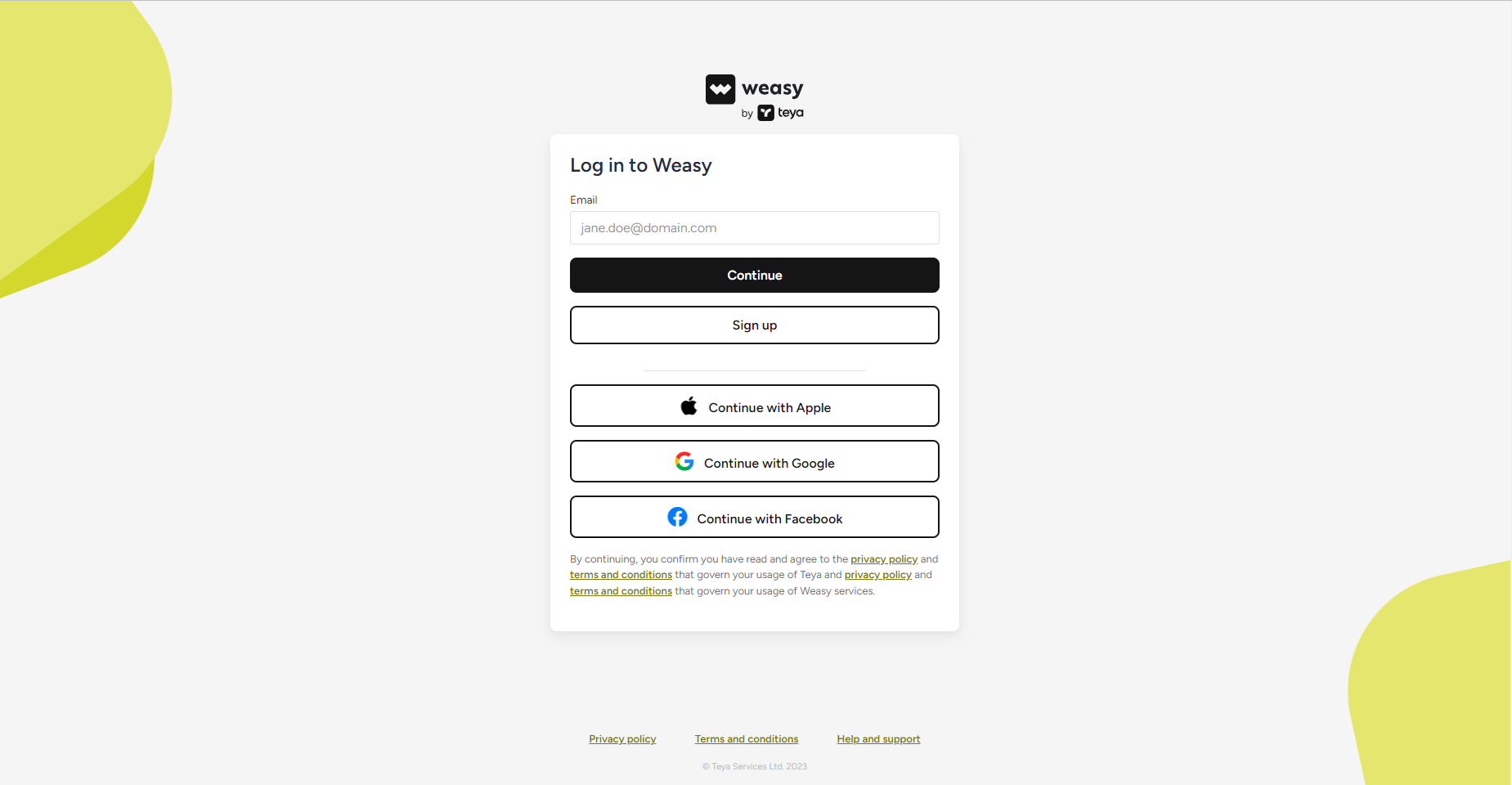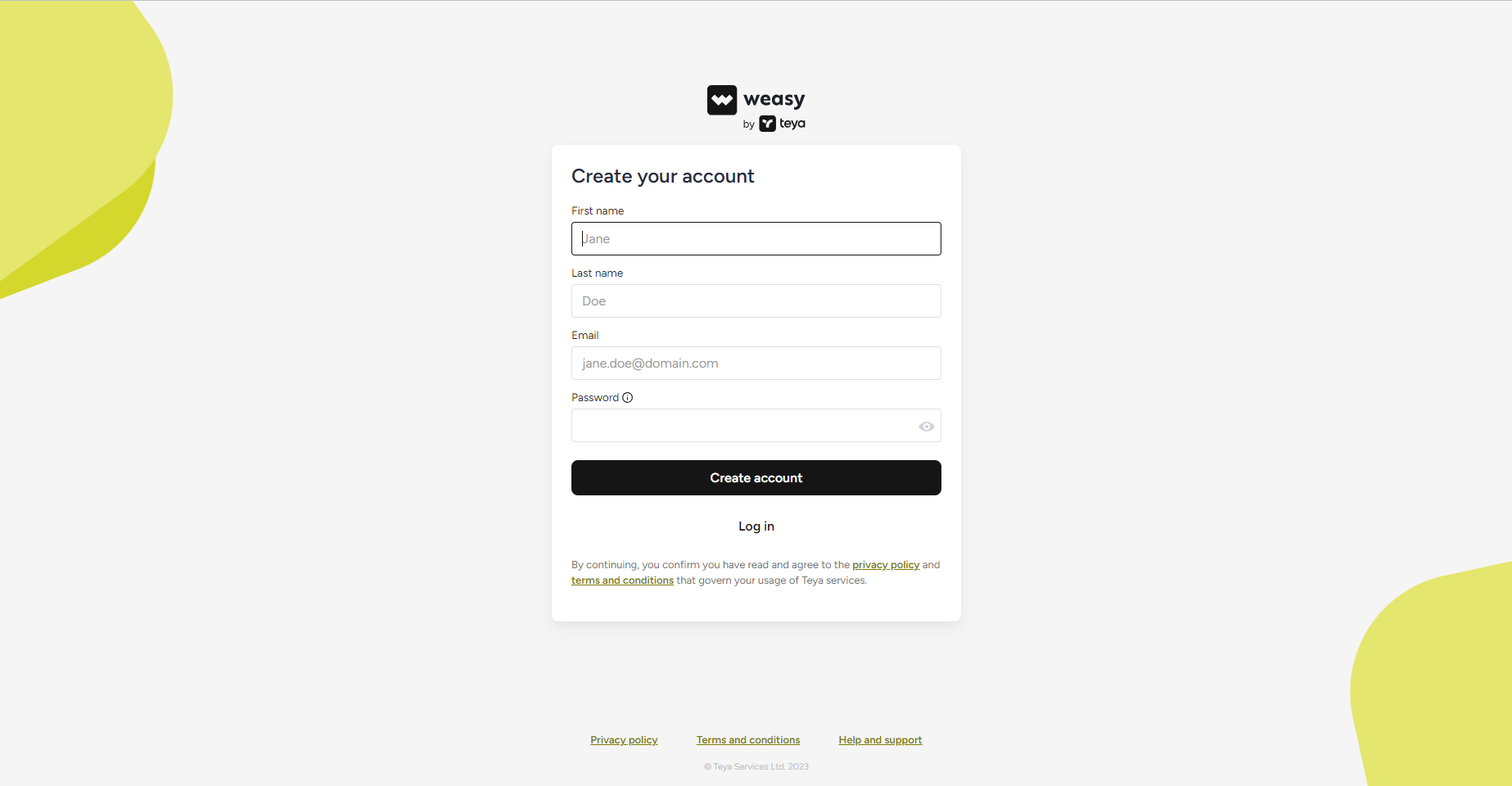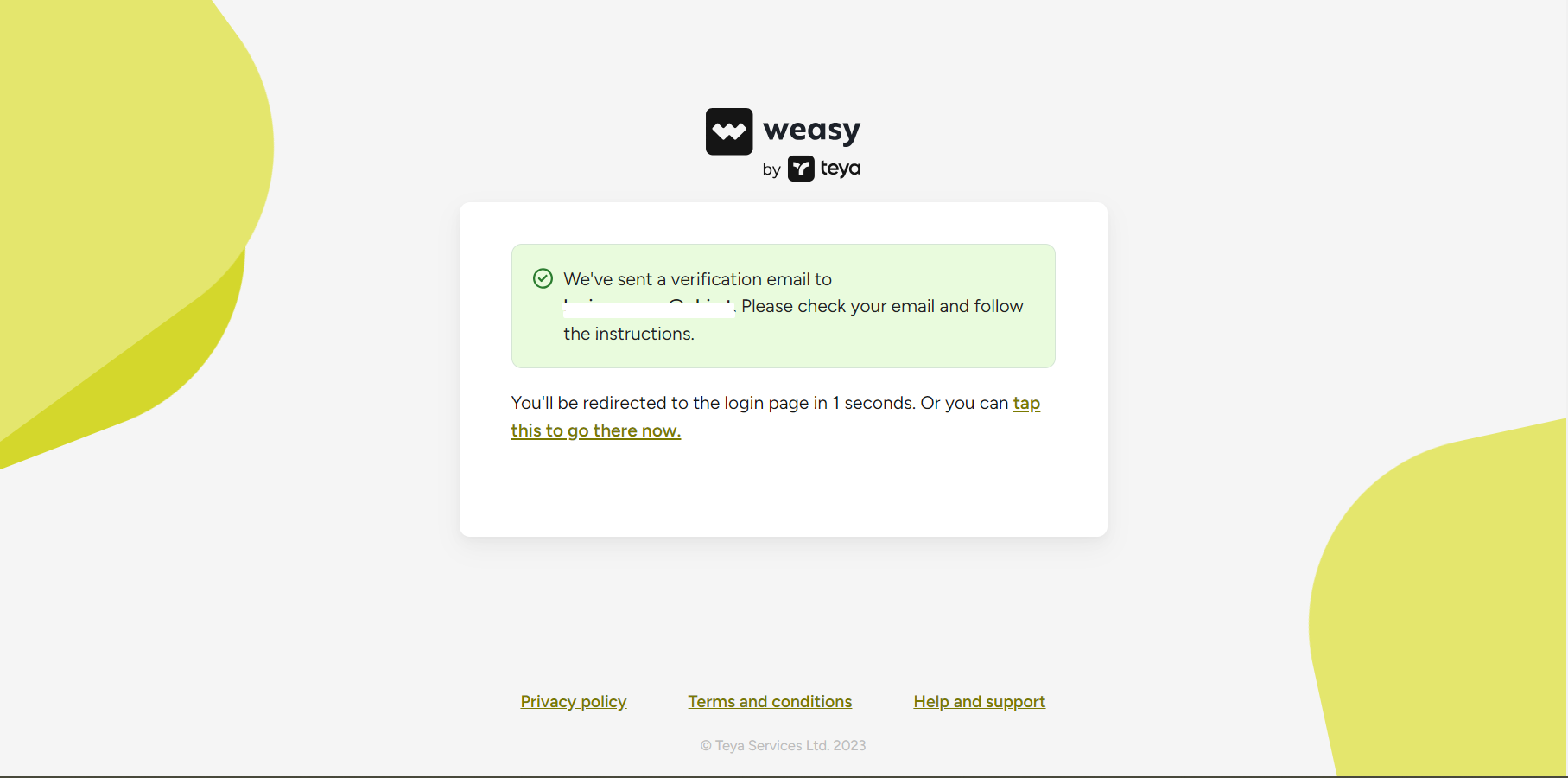 Note: the email you register with will be your main account email and can't be changed later. If you're using more of Teya's products, make sure to use the email you registered with for other products. Read more about Teya logins in this article.
Once you've successfully registered and logged in, you're ready to build your very own website.
Choosing the website type
After you've logged in, you'll be prompted to choose which type of website you're building.
You can choose between a regular website or an online store, depending on your type of business.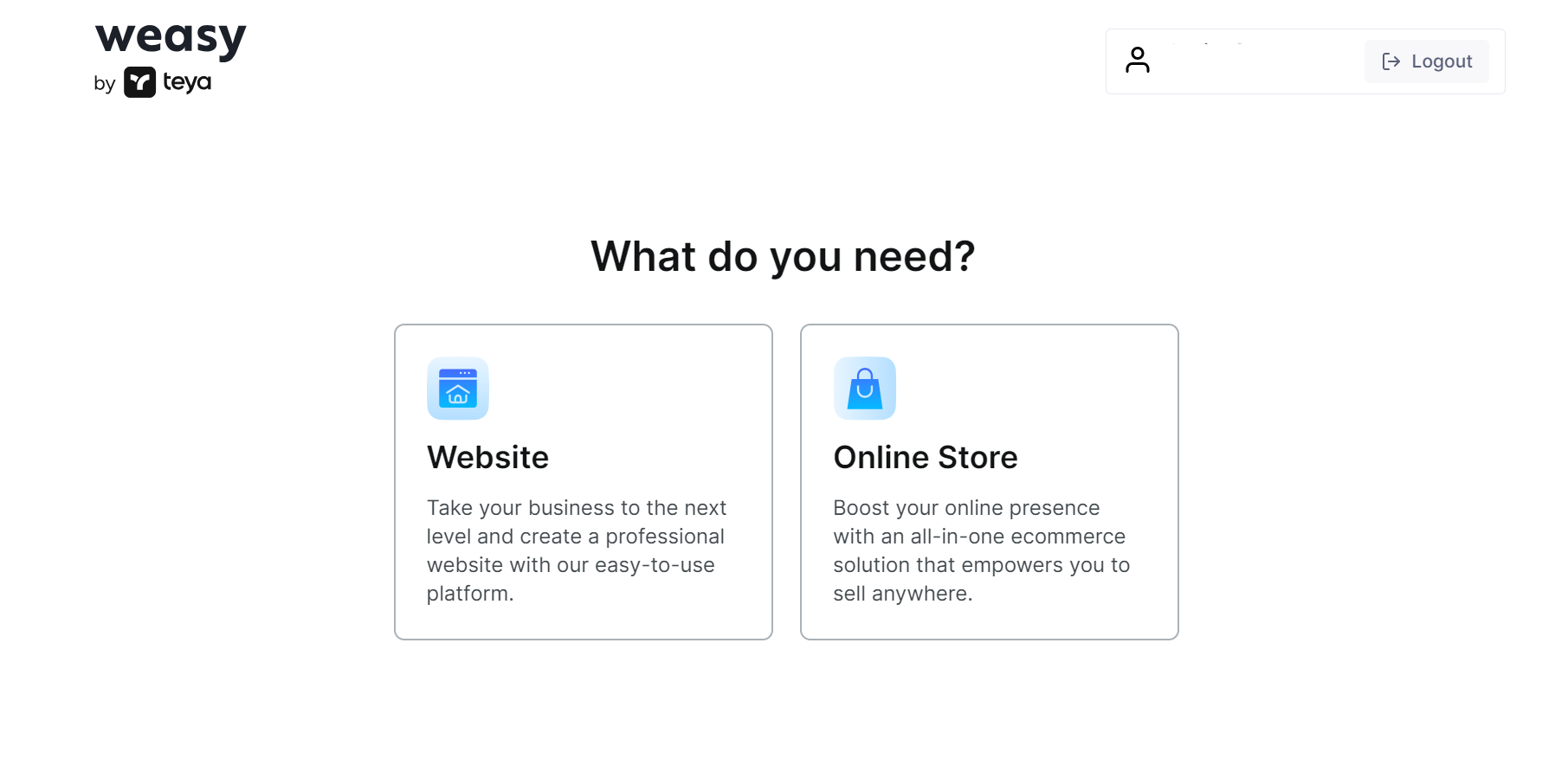 Website
If you own a business and want to make it easily accessible to everyone, then Website is the ideal choice.
With this option, you can include all your relevant company information and take advantage of our integrations to enhance your brand visibility.
Online Store
If you're looking to have a website and sell products or services online, the Online Store is the perfect choice for you. With this option, you can set up an e-commerce platform to cater to your customers' needs.
When selecting Online Store, you'll also need to choose a plan to suit your needs.
Basic details
After you choose the type of website you're building, you should set up the basic details.
1. Add your project name
The project name will serve as your temporary domain name until you finalise details.
2. Add your business type
Choosing the business type will help us to understand your business better and provide you with the best possible solutions almost instantly.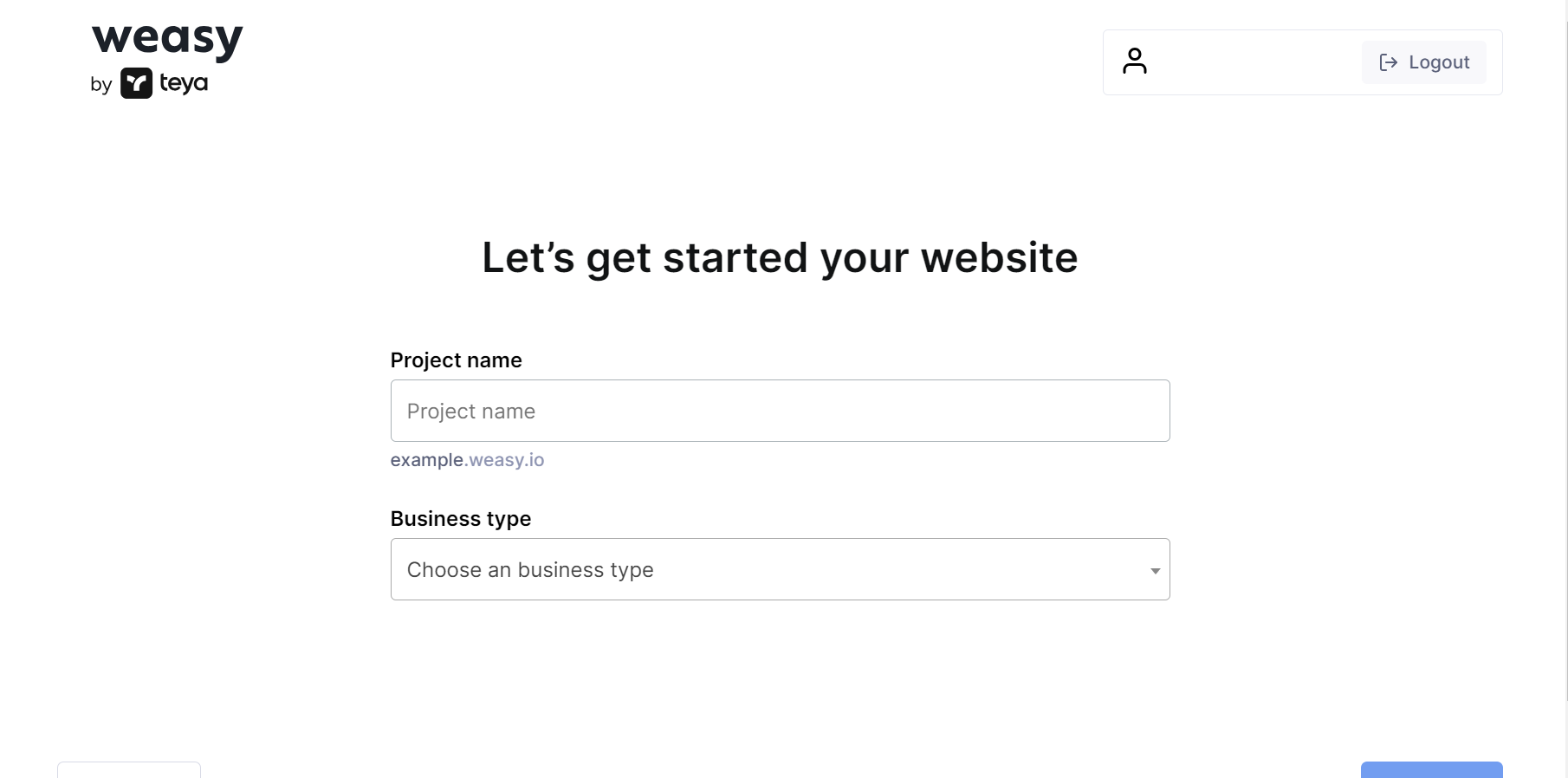 3. Describe your business
In the next step, tell us a little bit more about your business. What is it? What do you sell? Add any information you might think is important for us to know, and focus on keywords so that we can provide the best visuals for your website.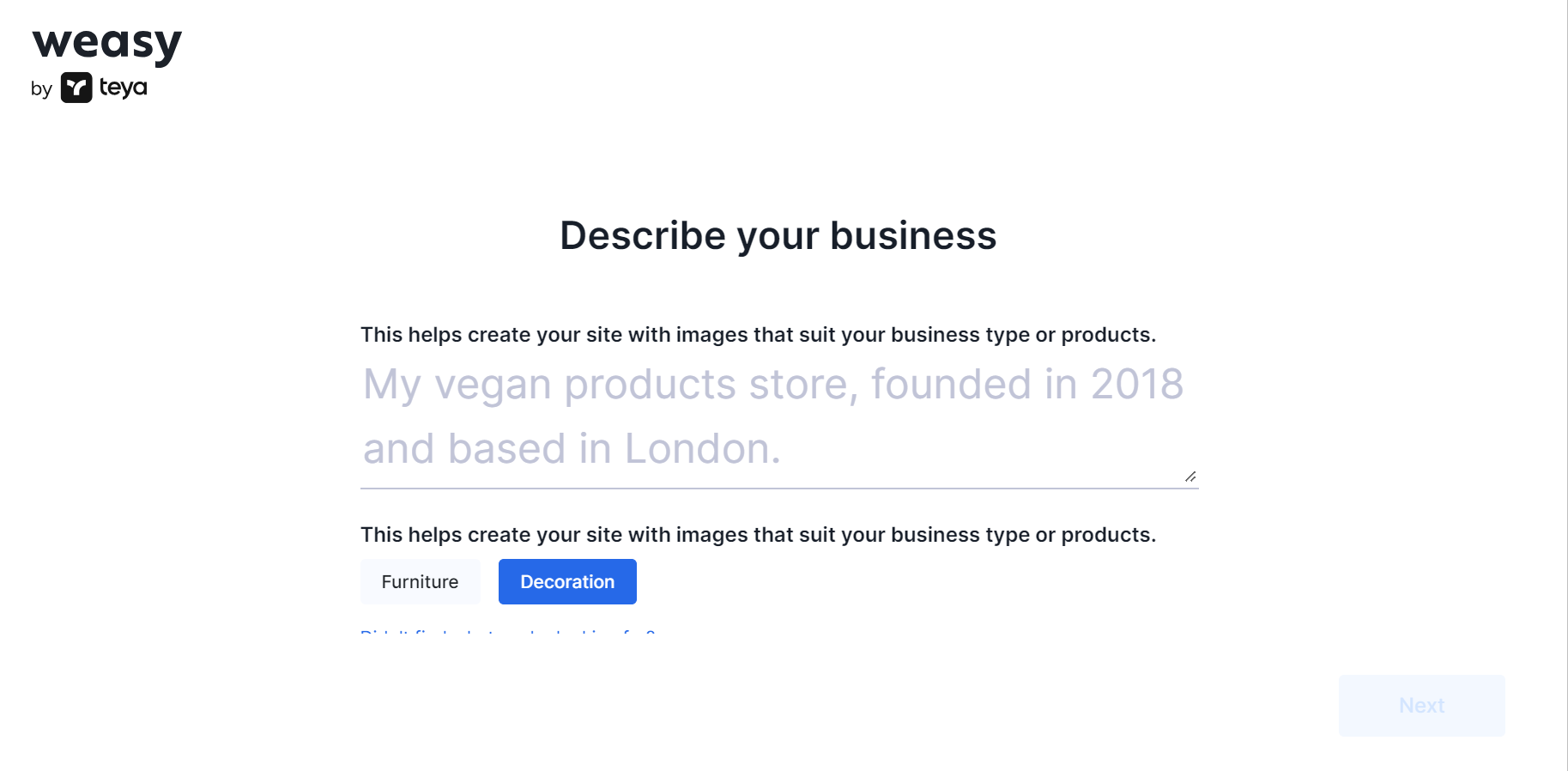 4. Choose a website theme
You're almost done! In the last step, you should choose a theme. Swipe left or right to find the best one for your website. Once you've chosen, drag it to the middle of the screen, then select Next.
Important: you can't change your theme at a later time. Don't worry, there are still ways to customise your website design whenever you want.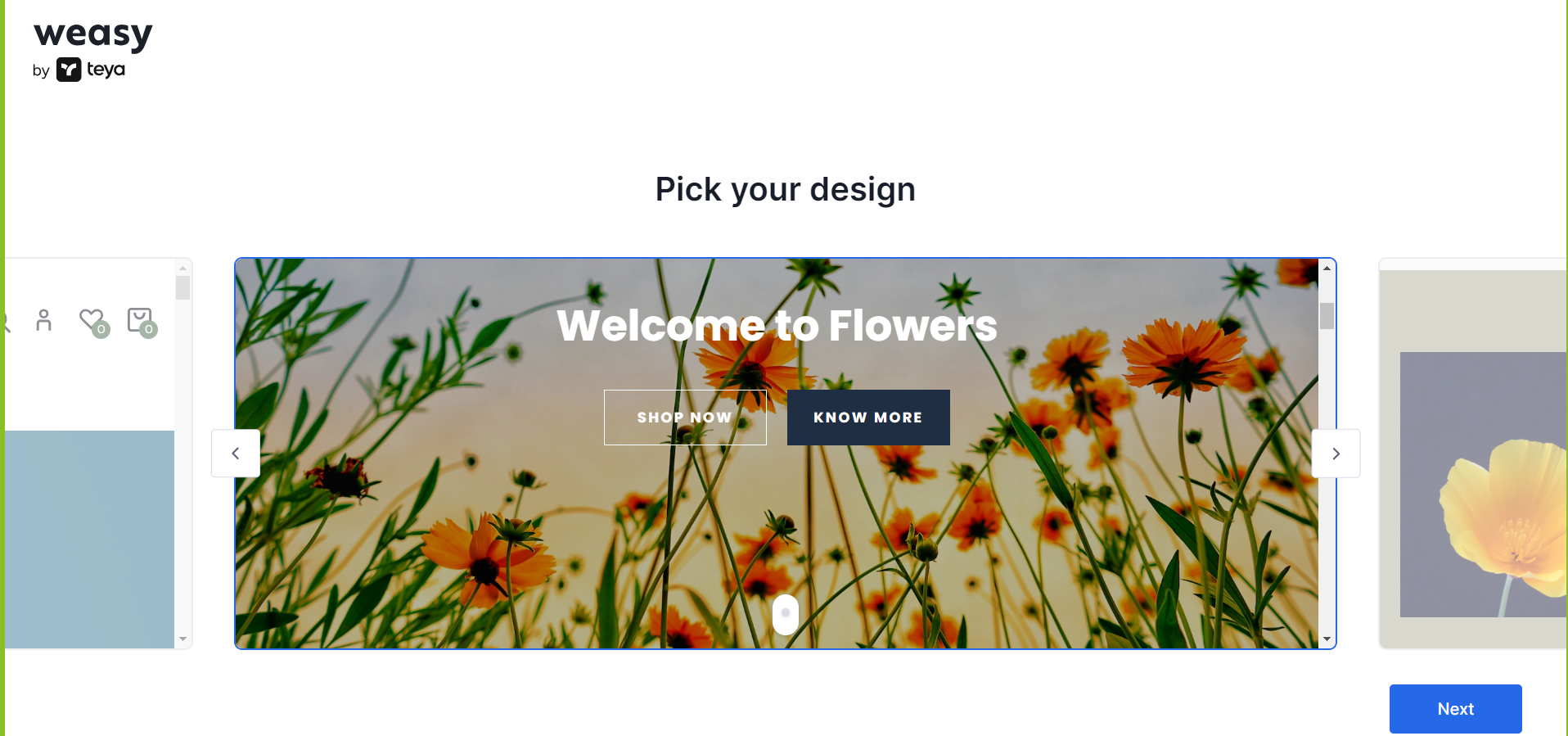 Finished. You can now proceed with configuring your website. Select See website and a new page will open.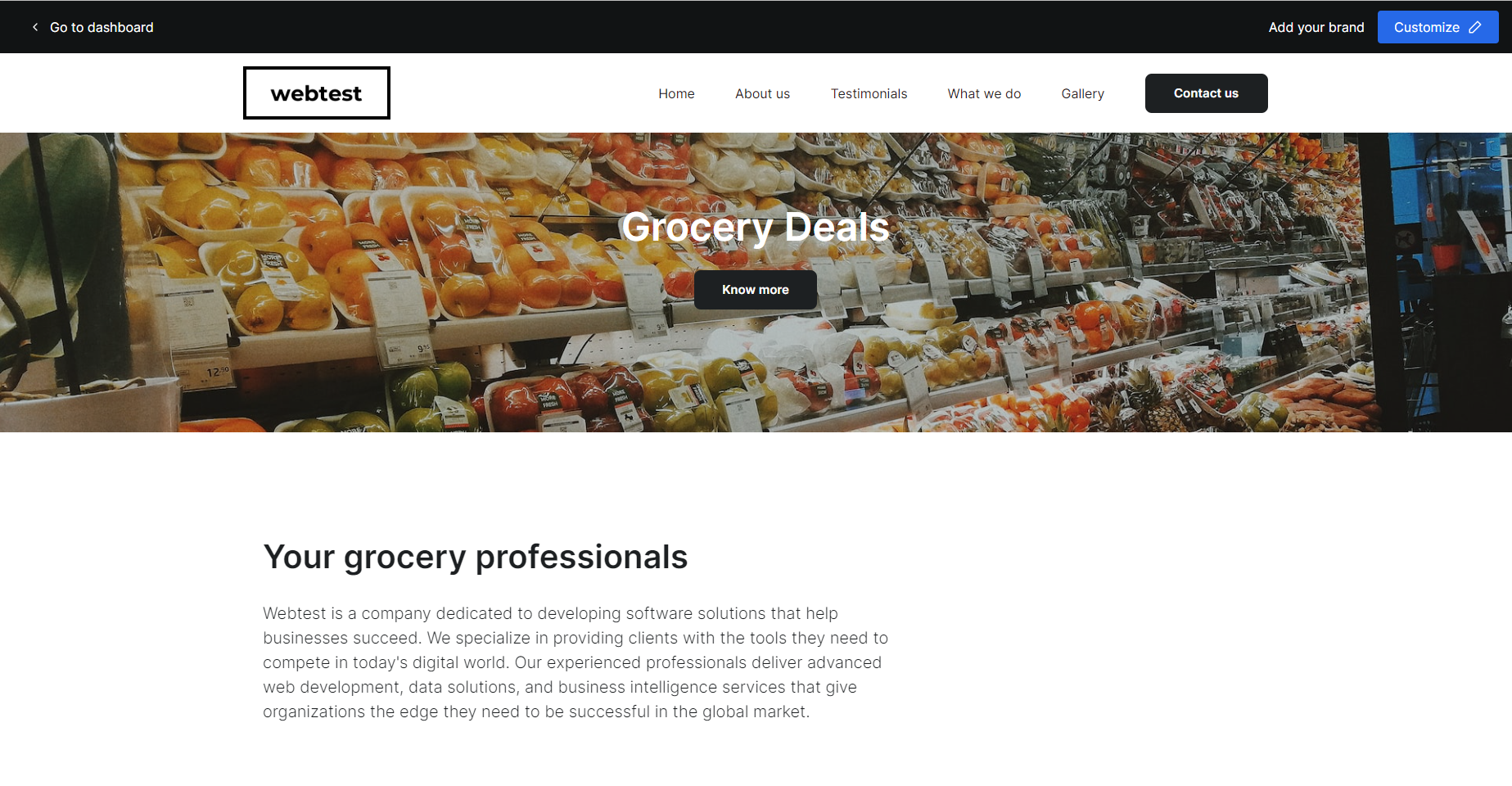 Designing and customising the website
Now you can start working on designing your website in two ways:
1. Select Go to dashboard in the top left of the screen
This is the main dashboard in which you can edit all the basic and more complex components of your website in one place.
2. Select Customise in the top right of your screen
You can immediately apply design changes by choosing this customisation method. For more complex changes, we recommend working in the dashboard.
Selecting Customise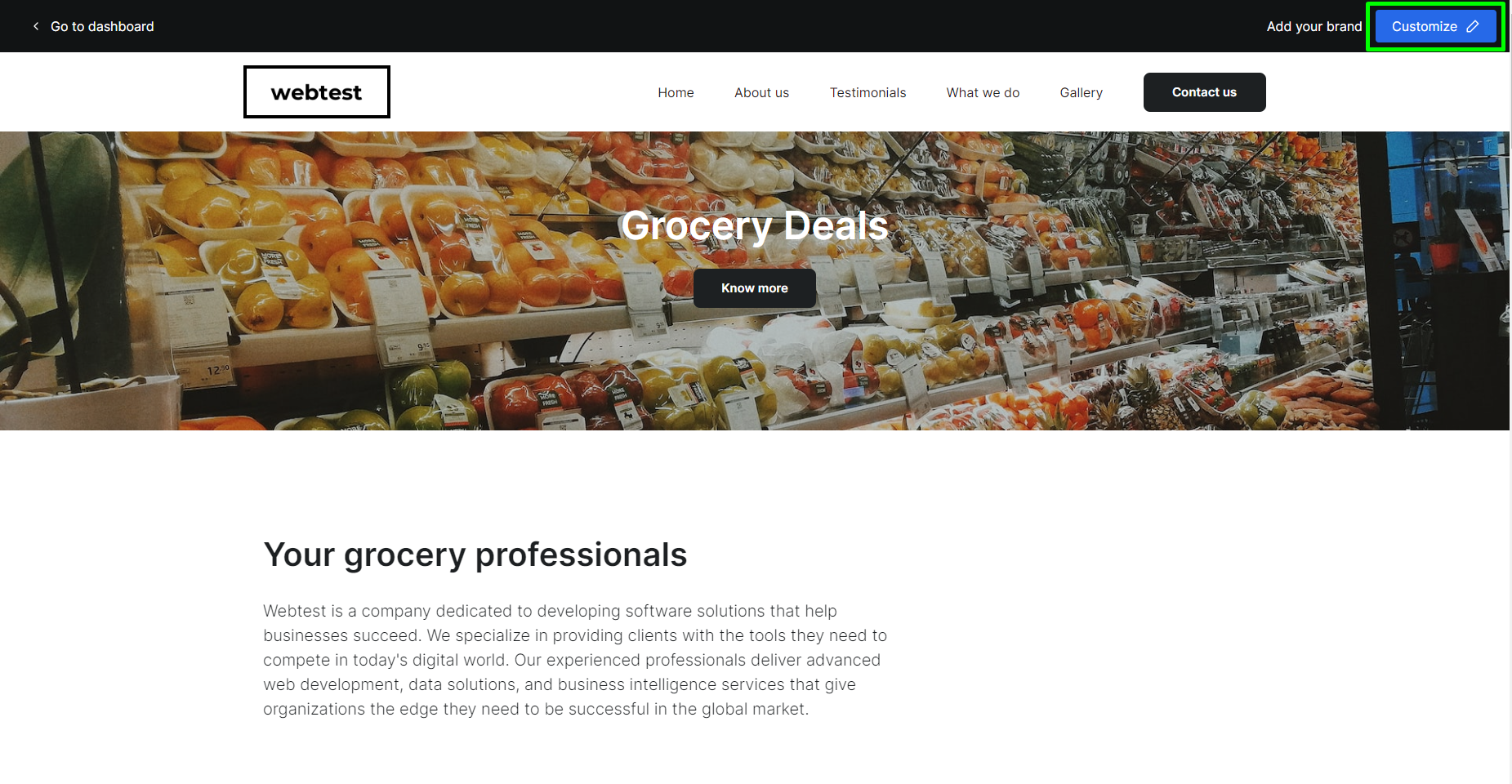 1. Select Customise.
2. Click Let's go on the pop-up message.
3. Start adding important brand information and personalise the design of your website.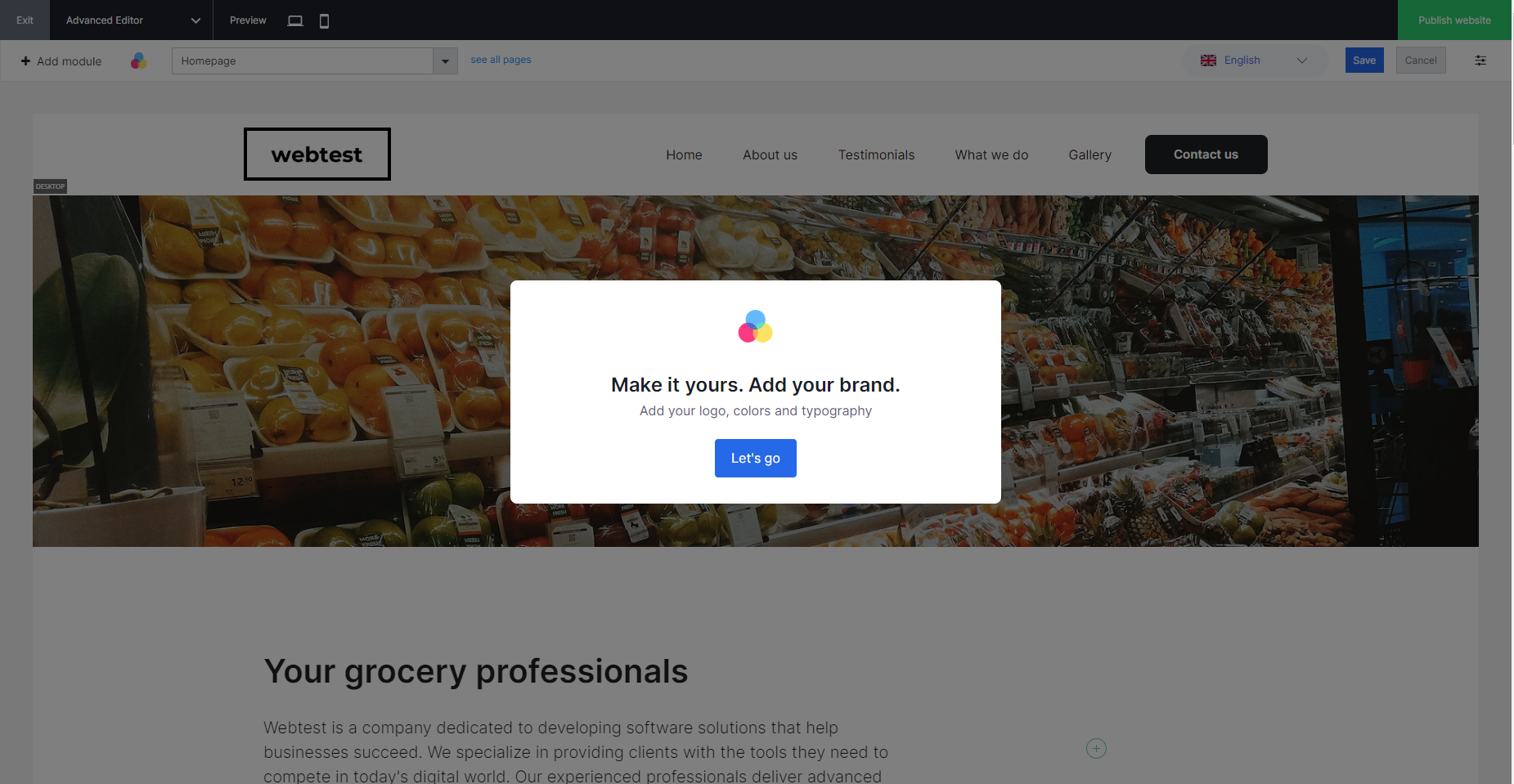 Note: before you start editing, it's important to upload your most important brand information, like your logo, main colours, and font. You can change this information at a later time, or add more information by clicking on Advanced settings.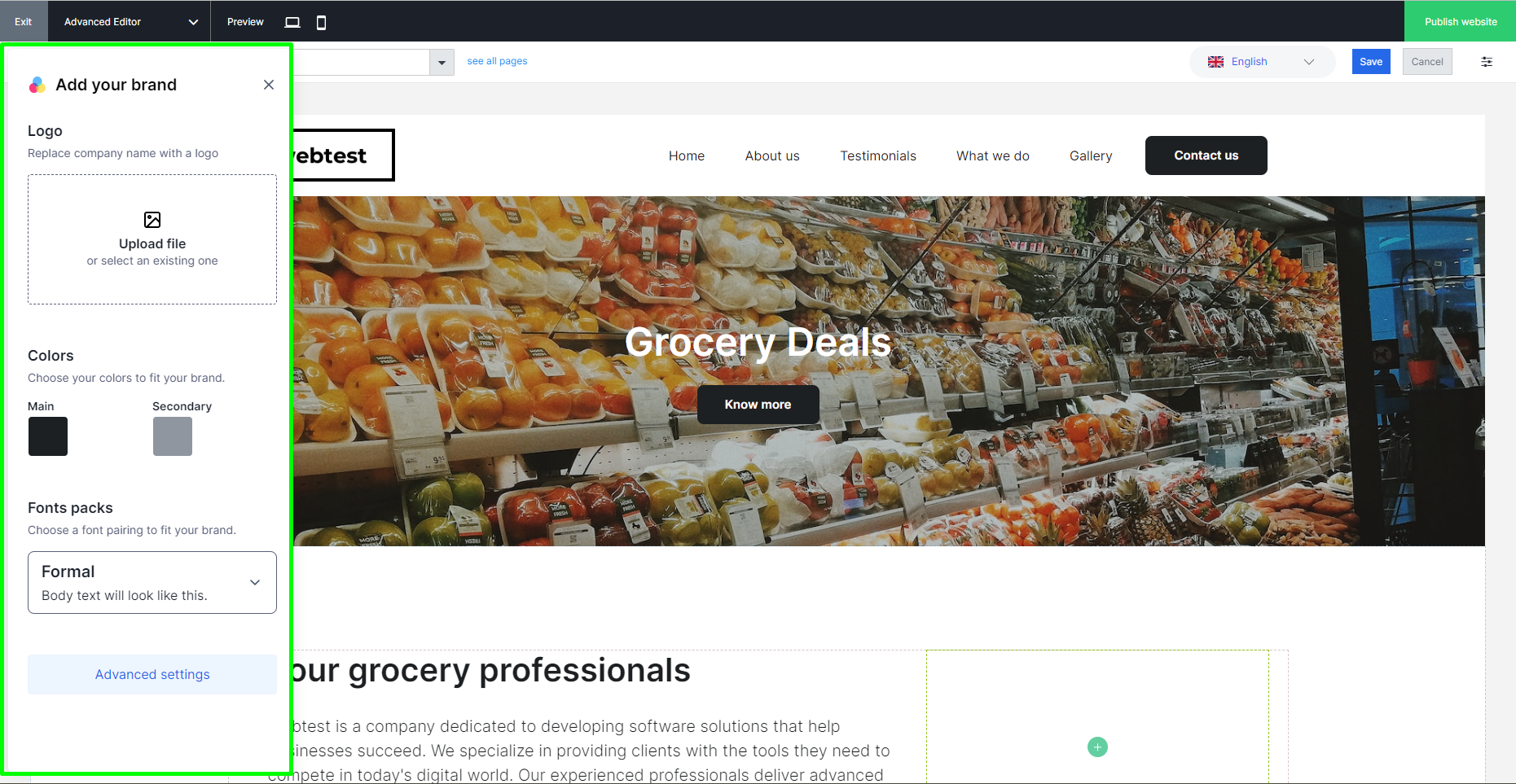 Important: to save your changes, select Save at the top right of the page, and then Publish website.
Selecting Go to dashboard
If you select Go to dashboard, the dashboard main page will appear. This is the place where you can add all the necessary information to kickstart your website.
From the main dashboard page, you can:
1. Design your homepage
By selecting this option, you'll be redirected to Website > Menu and pages, where you'll be able to create, edit, and search for menu pages. Learn more about it here.
​
2. Add your logo and colours to brand your website
By selecting this option, you'll be redirected to the website area.
Helpful tip: to add colours, go to Appearance and Style, and to add logo go to Settings > Website logos and icons.
3. Edit your contact info
By selecting this option, you'll be redirected to the Contacts App. Here, you can add all your business details and choose a specific layout.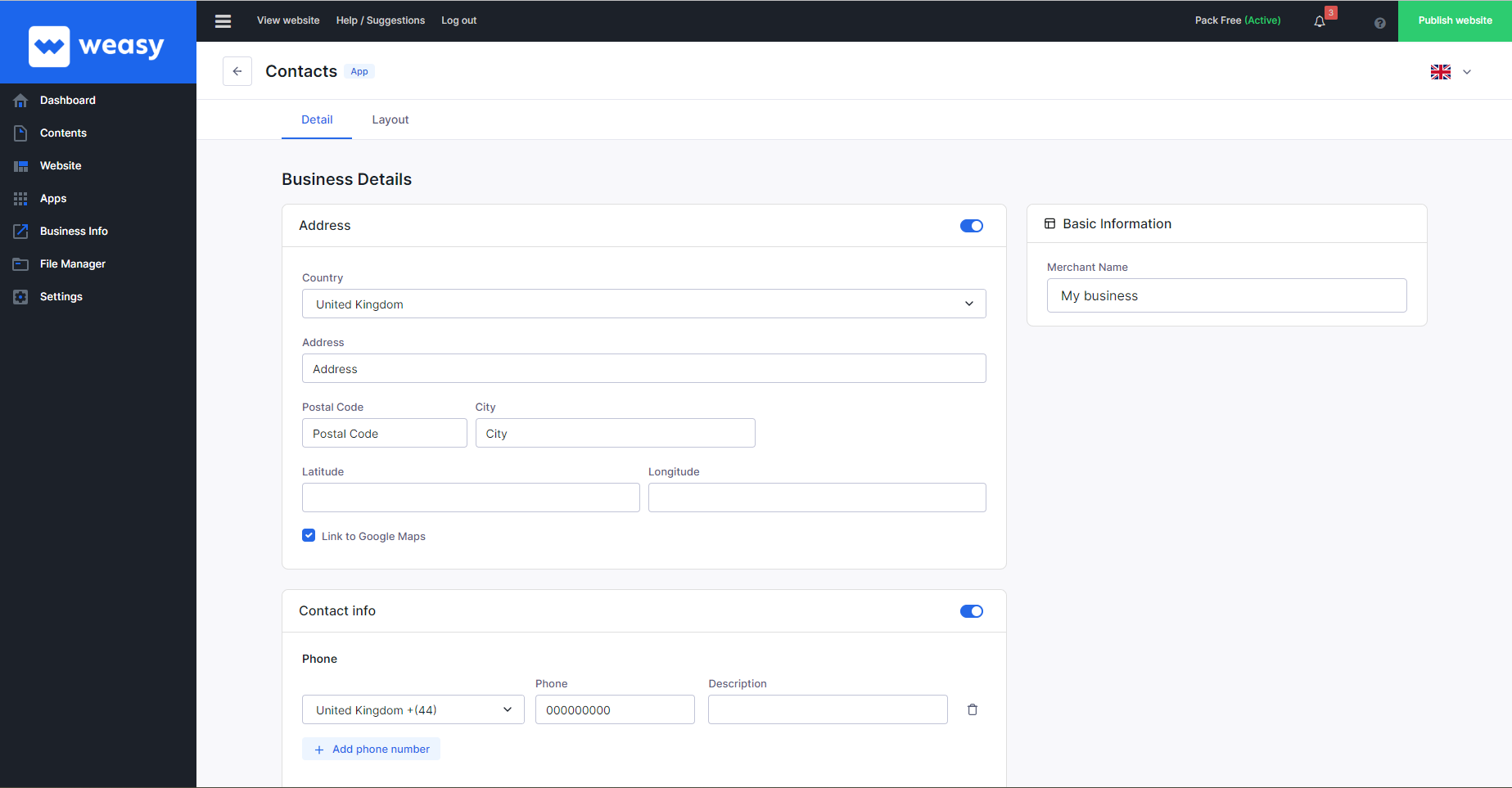 4. Connect to a custom domain
This is where you can find a custom domain, use an existing one, or transfer a domain. Find out how to configure your domain here.
5. Search engines indexing
When your website is ready to go live, you can add the indexing option. This will allow your website to be found by search engines. All you have to do is select Indexing from the drop-down menu and press Save.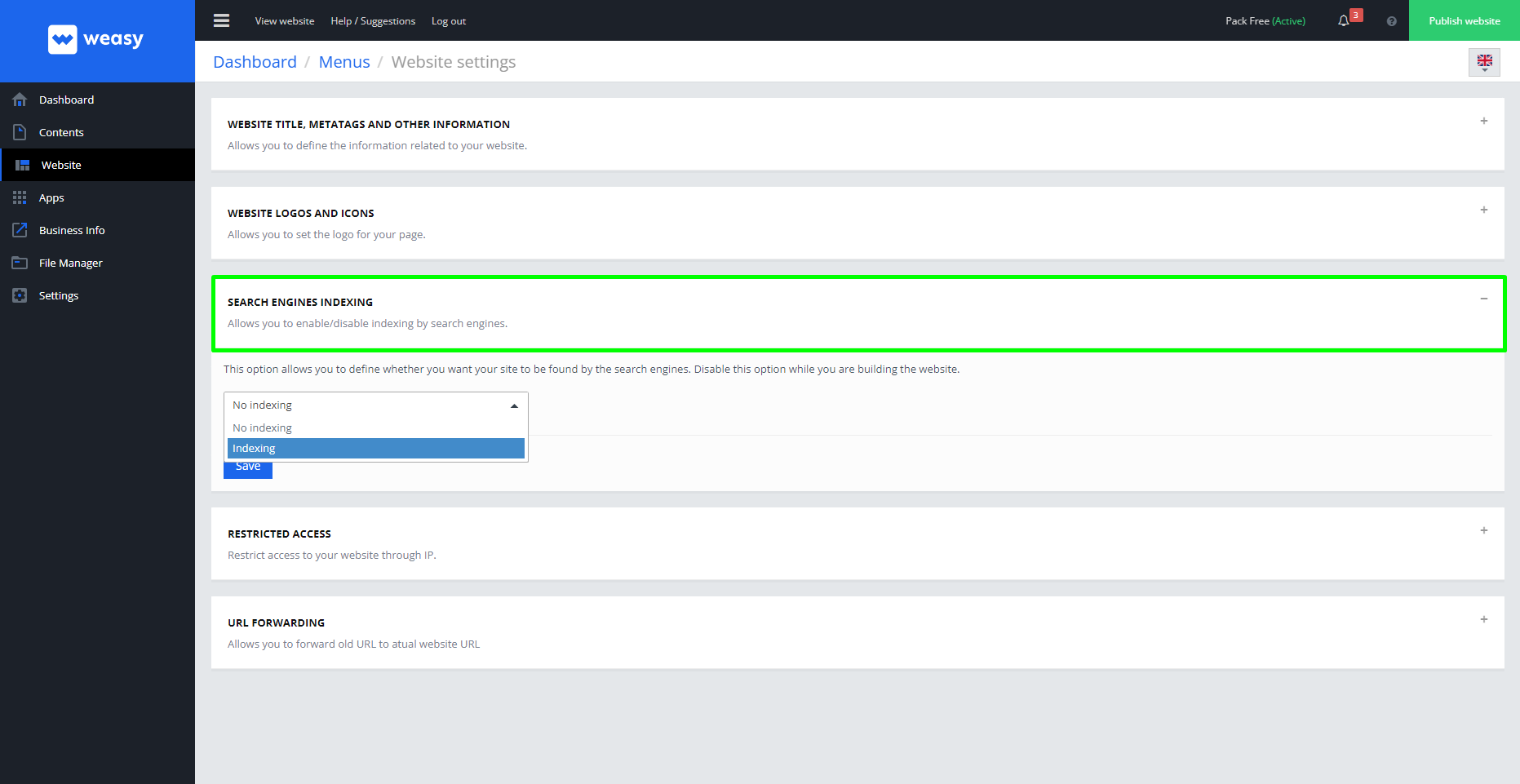 ​
Website back office
You can manage all your content and customise your page in the back office. To navigate your back office, use the menu on the left side of your screen.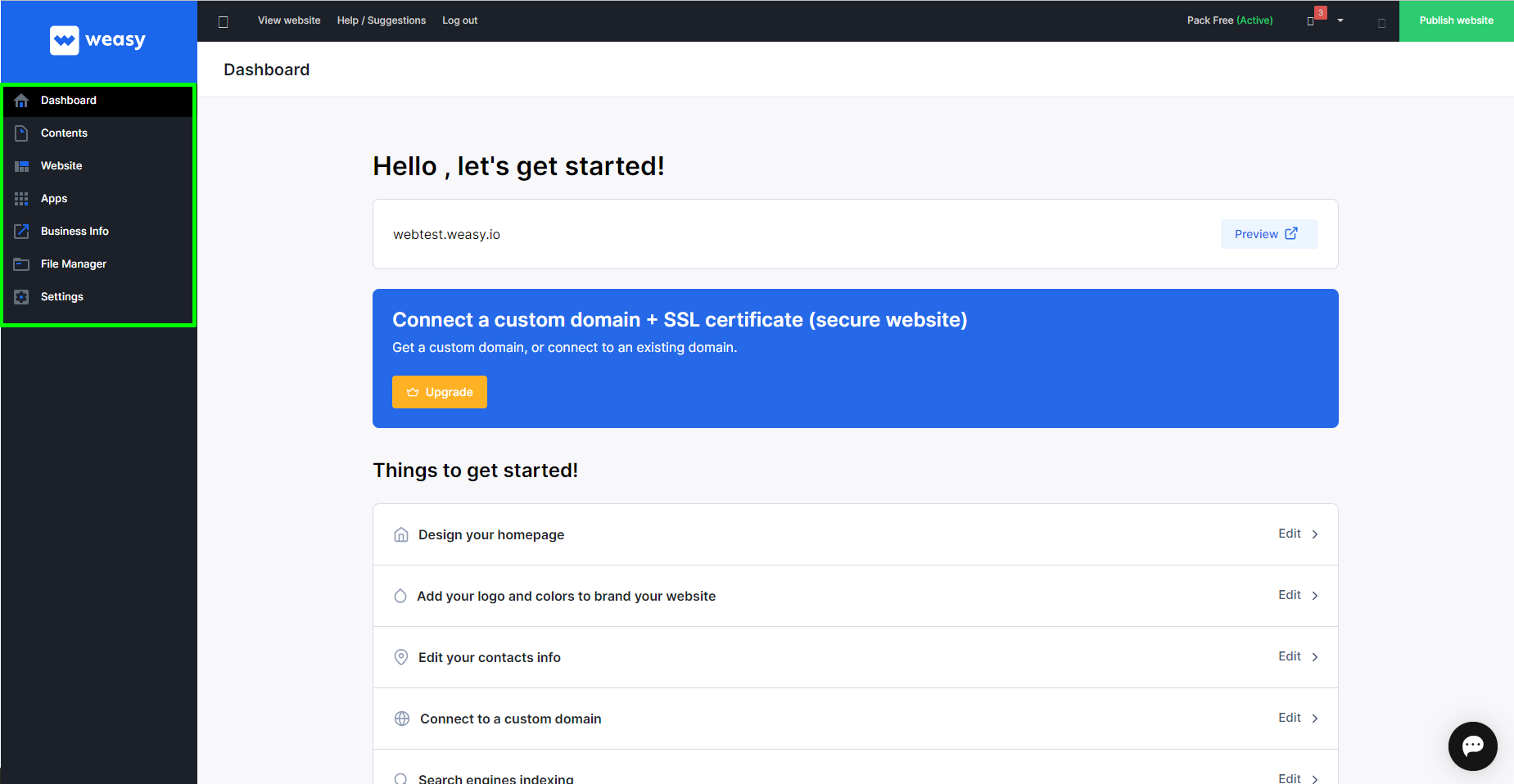 Contents: all your website content will be in this area. You can edit your news, all the gallery content, marketing subscribers, and the data table.

Website: this is where where you can edit all the design details of your website.

Apps: check out available apps to help personalise your website.

Business Info: a shortcut to the Contacts app where you can edit your business details.

File Manager: upload media you want to add to your website.

Settings: check all your account and back office settings.