Website - Menu and pages
The Menu and pages section is where you can easily create, edit, and search for your menu pages. You have the option to add a new page or create a folder to efficiently organise your pages and improve navigation for your website visitors.
Important: the folders you create in the Menu and pages section will only be accessible to users with website area access in the back office. These folders do not impact your website directly and do not create categories.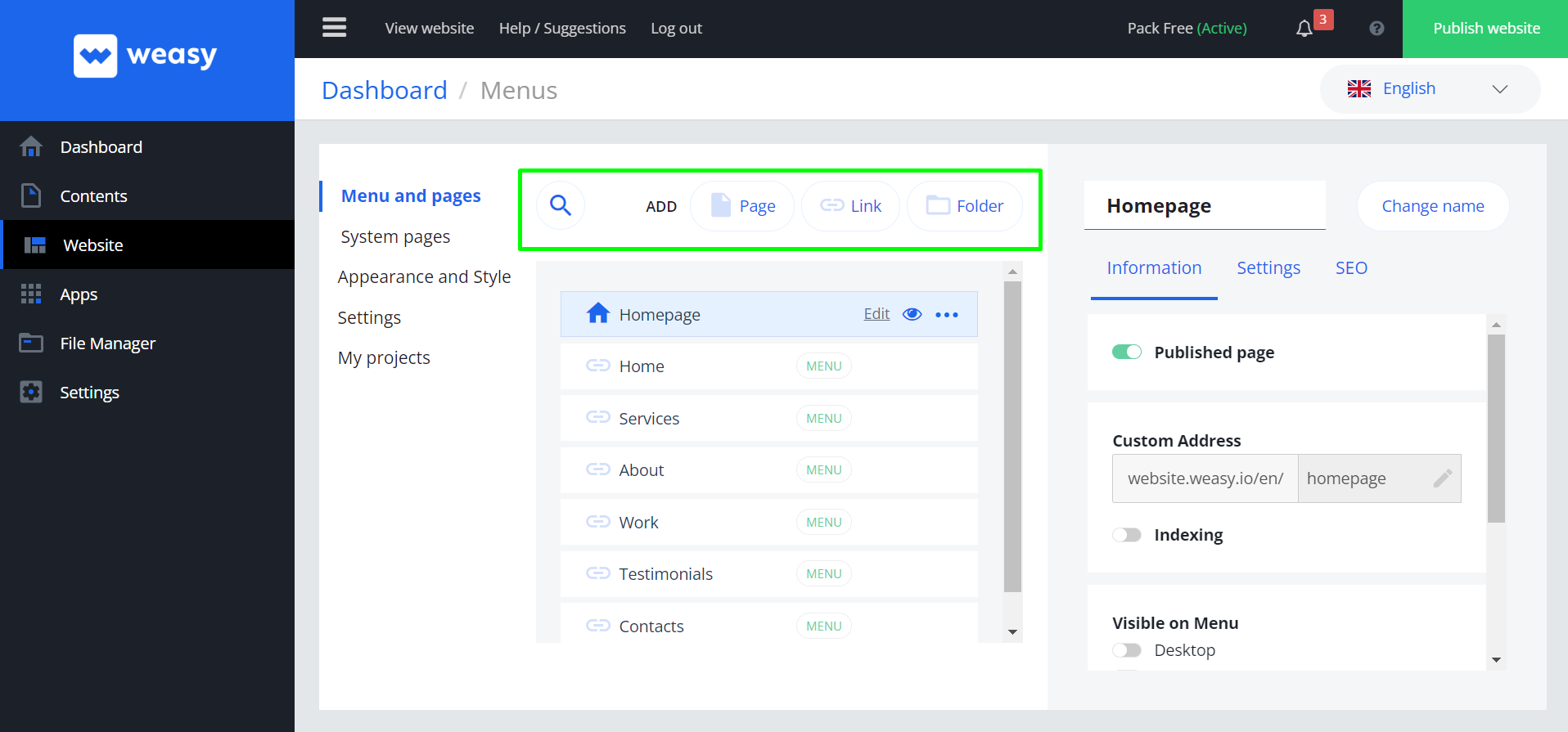 Under Menu and pages you can:
create a link to a page by clicking on Link.

find all your website pages and edit them.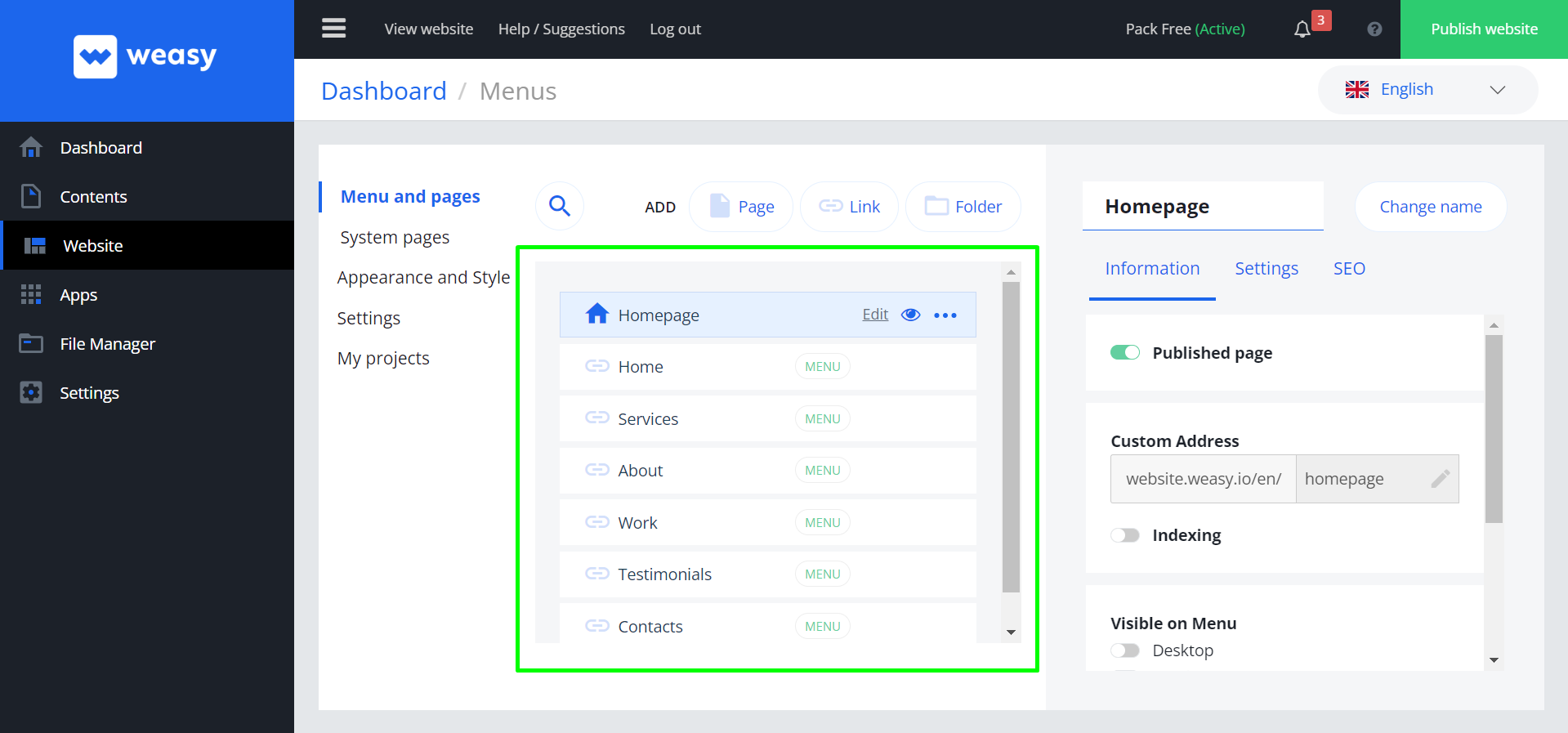 How to edit the website pages?
Click on the eye icon 👁️‍🗨️ and preview the page as it is at the moment.

Click on more options […] and edit the page on the builder, check the SEO settings, duplicate the page, change the name, or import content.

Click on Edit for shortcut access to the builder.
You can also edit the pages in the menu on the right side, namely: information, settings, and SEO.
Editing Information
Published page: activate this option only when your page is ready to be made public. You can keep this option deactivated while you're still editing the page. Once published, the toggle will turn green, indicating that the page is live and accessible to visitors.
Custom Address: modify the name of the page's URL and enable the index option. For instance, you can change your website.weasy.io/home to your website.weasy.io/mainpage by customising the address to better suit your needs. Once the page is indexed, the toggle will turn green and a message will appear.
Visible on Menu: you have the option to control the visibility of a page specifically for desktop or mobile devices. Simply activate the respective options in this area to specify whether the page should be displayed on desktop, mobile, or both.

Restricted page: you have the ability to restrict access to the page either by setting a password or by making it accessible only to registered users.

Make homepage: you can select which page should serve as your website's home page. Please note that only one page can be designated as the home page. If the house icon is blue, it indicates that the corresponding page is already set as your home page.
Settings
Background: customise the background of your page by selecting a specific color or setting a background image.

Sharing image: the chosen image will be displayed when the page is shared on social networks.
Useful tip: use a square preference image (600 x 600 pixels).
Cache: enabling caching creates temporary storage of the page, including images and content. This improves website speed and provides various other benefits.

Custom Javascript: enhance your page customization by adding your own JavaScript code.
Important: we cannot be held responsible for external codes. Please ensure that any code you use is safe and that you understand how it will be executed.
SEO
Preview on search engines: get a preview of how the page will appear on search engines.

Page title: assign a unique and concise headline to each page to help search engines distinguish between different pages on your website. Ensure that the title is clear, focuses on relevant keywords, and effectively represents the content of the page.
Helpful tip: we recommend keeping your page title between 60 and 65 characters for optimal visibility and search engine compatibility.
Page description: the page description serves as a summary that appears on search results. It provides visitors with additional information about the page's content.
Helpful tip: we recommend keeping your page description within the range of 100 to 320 characters for optimal search engine visibility and providing concise information to visitors.
Page metatags: meta tags or keywords are words or phrases entered by search engines to help find your site. Choose words that potential visitors commonly use in their searches.